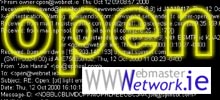 OPEN is a community-based collection of mailing lists for the discussion of Internet, Web and related topics.

The OPEN lists were first setup in the late 1990s and have been running ever since.

There were originally 5 lists on OPEN:
OPEN - General Web, Internet and related topics discussion list
- this list is still active
OPENTECH - More technical forum for scripting, servers and other tech discussion.
OWG - the OPEN Working Group, for discussion of the OPEN system, policy and growth.
OPEN-Announce - the OPEN Announce list, for broadcast of promotional items of interest though not for discussion on the list.
OPEN-Spectrum - the OPEN Spectrum Group, for discussion of all things Wireless.
OPENCAST - the OPEN CAST Group, to discuss the setting up of a representative body for Podcasters in Ireland.
To subscribe to any of the OPEN lists, enter your address below choose your list and click subscribe. You will then get an email asking you to confirm that you want to join, follow the instructions given in that email and you are on the list!

SUBSCRIBE to the OPEN discussion list


Once you have read and replied to the confirmation request email you will be added to the list. After that, if you like, we suggest you post your first message with some short info about who you are.

You can check out more information on the rules and guidelines of any of the lists...
OPEN, OPENTECH, OPEN-Announce, OPEN-Spectrum and OWG

MN